Glasshouse Fragrances captures the quintessence of "A Day in Montmartre" with a new collection of limited-edition ceramic candle duo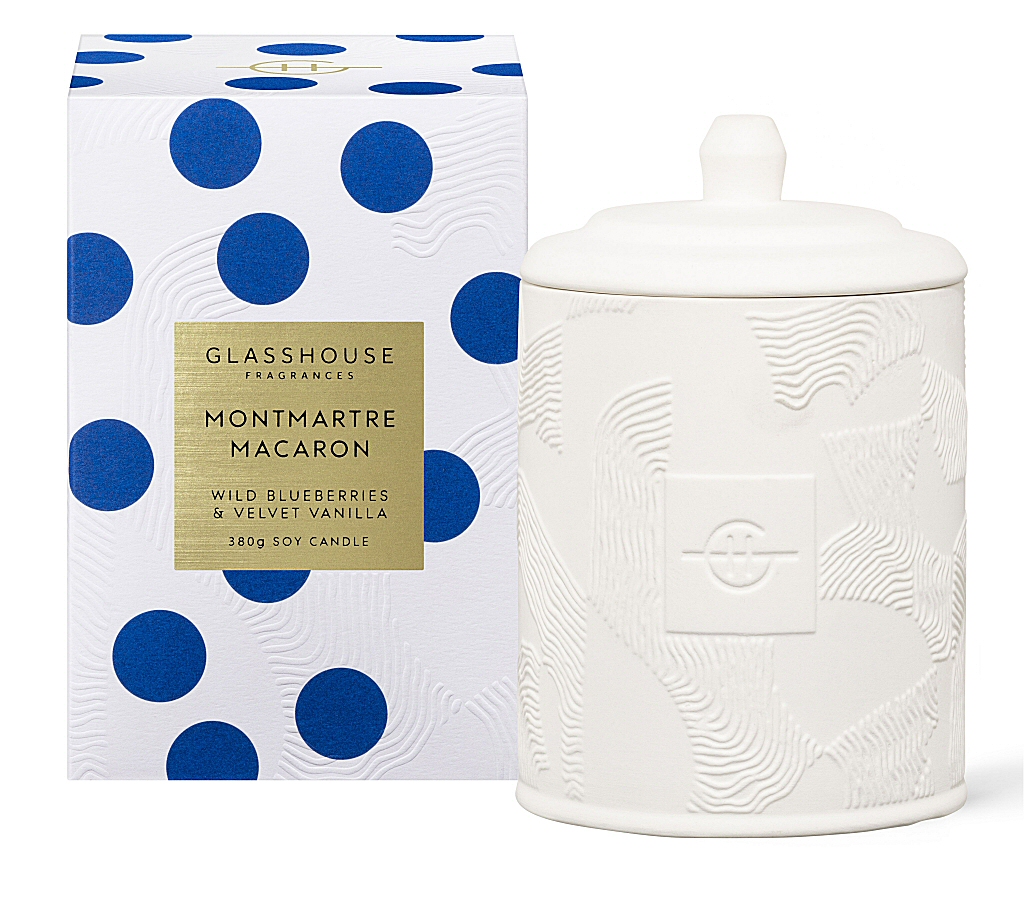 Escape to Paris' iconic Montmartre district with the exquisite aroma of this luxury candle duo that evokes floating pastries and the Sacré-Coeur basilica
Glasshouse Fragrances, a leader in the Australian fragrance market, now available to US buyers, today announced the release of "A Day in Montmartre", a special limited-edition candle duo inspired by the Parisian district of Montmartre, Paris. Imagine bohemian creatives strolling the cobbled streets with a latte in hand, corners dotted with workshops and the kind of well-known bakeries, patisseries and ice cream parlors that are always teeming with locals.
Available today on the Glasshouse Fragrances website, in select boutiques nationwide, as well as Amazon, "Montmartre Macaron" and "Sacré-Coeur" beautifully capture the essence of the streets, scents and Parisian art.
"This collection is inspired by the charming streets of Montmartre that always manage to leave me speechless," said Glasshouse Fragrances Founder and CEO Nicole Eckels.. "I was completely enamored with the surroundings – the streets with artists on every corner, the scents of floating pastries and the steps leading up to the famous Sacred Heart Cathedral. From their distinct scents to the etched white ceramic design in the vessels, these two beautiful candles capture the whole enchanting experience.
The collection begins with a walk up the hill to the magnificent Sacré-Coeur to take in the stunning views. It is the ideal place to breathe, choose a direction and stroll through the charming alleys. The collection continues the journey with a stop at a Parisian patisserie, with the aroma of buttercream-filled macaroons filling the air.
With unique ceramic vessels and beautifully colored wax, the capsule collection has been expertly crafted to be a work of art, which would be proudly displayed in every home.
MAIN CHARACTERISTICS
Triple scent, hand poured in Australia, 2 natural cotton wicks, decorated in reusable matt white ceramic, engraved with intricate patterns, Soy Blend Wax for a clean and even burn.
FRAGRANCE
Macaroon from Montmartre – Evoke the decadence of creamy vanilla, blueberry and a dusting of sweet coconut.
Head: wild blueberries
Middle: Creamy Musk
Base: sweet vanilla, sweetened coconut shell
Olfactory family: Gourmet (Fruity)
Fragrance strength: 3.5
Sacred Heart – Immerse yourself in the temple's richness of frankincense, myrrh and heady cedarwood.
Top: Incense, Pink Pepper
Middle: myrrh, tonka bean
Base: cedarwood, amber, vanilla
Fragrance Family: Woody Fragrance
Fragrance strength: 3.5
About Nicole Eckels:
Born and raised in New York, Nicole began her career as a makeup artist before moving into B2B sales which found her in San Francisco. At this time, Nicole longed for a more challenging and challenging creative outlet where she could express her passion for the bold and dynamic. It was at this time that she left to seek the sunny coasts of Australia with her son where she found her "true vocation". While shopping at David Jones to replace a beloved candle purchased in New York, Nicole couldn't find what she was looking for. Noting the high end brands from Europe and the low end unscented brands, Nicole saw a clear gap in the market for fine, high quality scented candles at accessible prices and, after months of research, Glasshouse Fragrances is not.
To learn more about Glasshouse Fragrances and its product family, visit:
https://us.glasshousefragrances.com
About Glasshouse Fragrances
Founded in Australia in 2006 by Nicole Eckels, Glasshouse Fragrances develops transformational fragrances that enrich people's lives. Realizing that our sense of smell is the most powerful of all, Glasshouse Fragrances teases and seduces with its revolutionary scents that deliver unparalleled personal experiences. In the summer of 2021, Glasshouse Fragrances was launched in the American market.