Seeing the Bigger Pitcher: Dual Citizen – two cities, one game room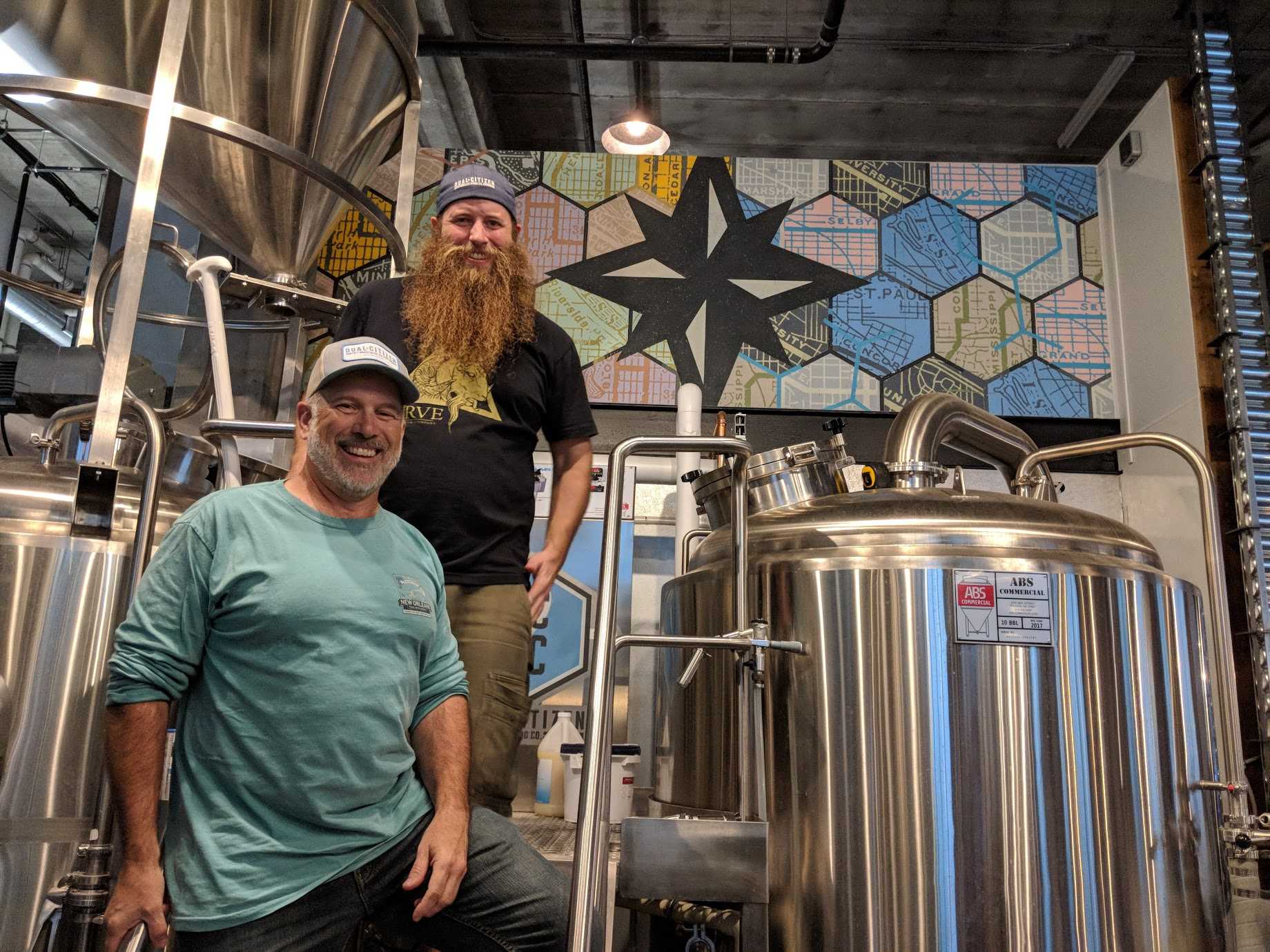 "What does dual nationality mean to you? »The brewery's website asks its customers and employees. Opened just eight months ago in January 2018 at the corner of University Avenue and Raymond Avenue in Saint-Paul, Dual Citizen is now at the center of neighborhood festivities, asserting itself as a community meeting place. for the two "citizens," those of Minneapolis and those of St. Paul. The next big community event is a block party hosting some of Minnesota's best bands, beers, and food.
The "Blocktoberfest" will take place on Saturday September 29 from 12 noon to 7:30 pm, so mark your calendars.
Coming from cousins ​​Max Filter (head brewer) and Tim Kessler (general manager), Dual Citizen takes head on the perceived difference between St. Paul and Minneapolis. "We are better together than apart," writes Filter on his site. Born in Minneapolis and raised in St. Paul, he says he never understood the desire to separate the two subways. For him, the brewery represents the desire to "go beyond petty rivalries and embrace the idea that our differences define the best parts of our common culture".
Filter's career in brewing began humbly. He attended Lewis and Clark College in Portland, Oregon, and started brewing at home in his bedroom closet. Simply, he says, to avoid drinking PBR. But the beers were well received by his friends, so he continued. Upon returning to Minnesota in 2009, he and Kessler upped the stakes, saving up to buy better equipment and even bought a dilapidated house with plans for a faucet room. When that didn't work, the two took a step back to find out more.
They completed the Craft Distillation Operations Program at the Siebel Institute of Technology in Chicago and then began working in breweries. Filter ended up at Left Hand Brewing in Colorado before moving on to Renegade Brewing, where he quickly went from assistant to head brewer. During his four years at Renegade, Filter helped the company increase production from one thousand barrels to six thousand per year and move to new brewing and packaging facilities. But the plan was still to come home, Filter said.
He and his long beard returned to Minnesota in 2016 to team up with Kessler and other members of his extended family (he has over 60 cousins). Filter's father spotted buildings, Ander Blackstack and Venn both passed the Raymond Avenue site, the family was quick to acquire. With the facility and reception hall right across from the Green Line and half a mile from the two-city border, the name practically wrote itself.
In an effort to bring cities together, Filter hopes that Dual Citizen can be a community destination. Currently, they don't plan on boxing or bottling their beers, instead focusing on the tasting room. The food isn't even "on the table" as the brewery has collaborations with Naughty Greek (next door), as well as a variety of beef sticks and jerky. They have no interest in being the next Surly or Indeed, but rather in being a hub where locals can work, relax, and enjoy the company of others, no matter which side of the Mississippi they live in.
Filter's beer also represents this mission. Not very trendy, he prefers to brew a varied range of beers with a simple criterion: the beer must taste good. The list of taps changes frequently, with just a few constant ones, like their popular Kellogg Cream Ale. Right now, I recommend Osceola Amber, a hoppy red ale with a deliciously complex malt palette, Hiawatha, a smooth Imperial IPA, and Dewey Kettle Sour. However, the flavor of the month is Oktoberfest, which is slated for release during Dual Citizen's Blocktoberfest. I had the chance to taste the specialty marzen lager in advance and I was not disappointed. In fact, this is possibly the tastiest, richest, and tastiest O festival I have encountered in my short life.
And don't forget to try four other local breweries at Bloktoberfest, including Blackstack and Urban Growler, then douse your beer with a bit of Naughty Greek or an item from one of the many food trucks. So what does being a dual citizen mean to you? Come and share your thoughts with fellow citizens over a pint this Saturday and discover what this welcoming new brewery has to offer.
Dual Citizen is located at 725 Raymond Ave, St Paul, MN 55114.